Bale Baron Small Bale Packaging System
The Ultimate in Automatic Small Bale Packaging Systems:

The Bale Baron:
A mobile stacking unit that pulls directly behind a baler. This provides for only one pass over the field. It arranges and ties 21 small bales into one large bale. It is fully automatic and controlled by a PLC computer. A knotter is used tor tying, utilizing the proven double knot system.
This large bale can be handled with a loader - eliminating the need for manual labour. From field to storage - out of storage onto truck for delivery to the customer - mechanical handling every step of the way.
Standard Small Bales:
BALE BARON uses a 32" (80cm) long bale to create a 35" long bale after being compressed into the bundle. It works well with the most common weight ranges of 40-55 lbs. (14" x 18"), 50-65 lbs. (16" x 18")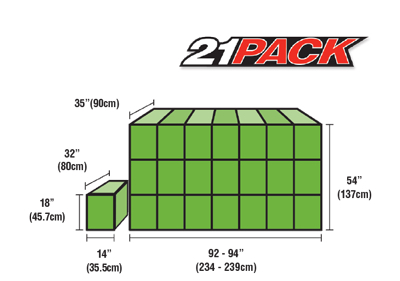 The BALE BARON 21 PACK uses standard bales from 14" balers.